Home
---
The South Carolina Society
of the
Sons of the American Revolution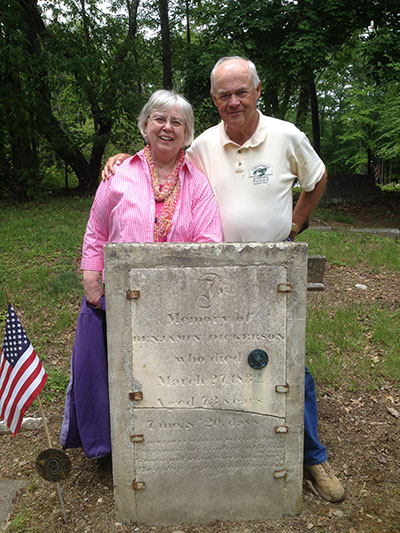 ---
On June 4, Compatriot Peter Dickerson and his sister Alice Dickerson Hatt of Jamesville, NY located their patriot ancestor's gravesite at The Hopewell Cemetery in Thompson Ridge, Orange County, NY.  Patriot Benjamin Dickerson, 1758-1832 (their 5th generation great-grandfather) fought in the American Revolution under the command of Captain Caleb Brewster transporting spy messages in the Culper Spy network. In 1782 he was severely wounded along with 16 other boatmen who were killed or wounded in a fight with the British in Long Island Sound.  While visiting the cemetery, the Dickersons placed an American flag alongside a flag marker placed by the American Legion during recent Memorial Day observances.
---
The South Carolina Society was organized April 18th, 1889 in a room at the State Capital in Columbia. After the election of officers, the organizing group appointed delegates to the proposed National Convention in New York City to be held later in the month. The National Society was organized April 30th, 1889. Those descendents of our brave ancestors, whose vision and courage gave us our great nation, formed a fraternal, patriotic, and civic organization to perpetuate the basic principles of freedom to honor our founding fathers. The name adopted by the organization was the Sons of the American Revolution. The South Carolina Society began granting charters to chapters in 1923. Currently nineteen chapters promote the American spirit through fraternal meetings, commemorative observances of events and battles, educational materials, projects, lectures, tours and publications. South Carolina is rich in historical events of the American Revolution. From the mountains to the coast, South Carolina experienced the most battles and skirmishes of the war. The nineteen chapters of our society sponsor annual anniversary ceremonies of many of the battles and events.

Relics of the Revolution may be found throughout the state in some federal and state parks, museums, and libraries. Markers are found in our countryside reminding us of the sacrifice of our ancestors. The Society seeks to mark graves of our Revolutionary ancestors. Since the organization of the South Carolina Society, over 3,000 have filled the membership ranks. As of November 2014 membership was 849.

The South Carolina Society of the American Revolution joins in effort with the Daughters of the American Revolution, the Children of the American Revolution, and all patriotic and historical groups in keeping alive the ideals of our ancestors who gave us our United States of America.

Member since June 24, 1960