Home
---
The South Carolina Society
of the
Sons of the American Revolution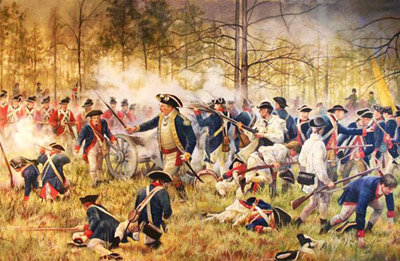 ---
The Capture of Savannah
 The Capture of Savannah, or sometimes the First battle of Savannah (because of a siege in 1779), was an American Revolutionary War battle fought on December 29, 1778 between local American patriot militia and Continental Army units holding the city and a British invasion force under the command of Lt. Col. Archibald Campbell. It was the opening move in the British southern strategy to regain control of the rebellious southern provinces by appealing to the strong Loyalist sentiment believed to be there.
General Sir Henry Clinton, the commander-in-chief of the British forces based in New York City, dispatched Campbell and a 3,100 man force from New York to capture Savannah, and begin the process of returning Georgia to British control. He was to be assisted by troops under the command of Brigadier General Augustine Prevost that were marching up from Saint Augustine in East Florida.  After landing near Savannah on December 23, Campbell assessed the American defenses, which were comparatively weak, and decided to attack without waiting for Prevost. Taking advantage of local assistance he successfully flanked the American position outside the town, captured a large portion of Maj. Gen. Robert Howe's army, and drove the remnants to retreat into South Carolina.
---
The South Carolina Society was organized April 18th, 1889 in a room at the State Capital in Columbia. After the election of officers, the organizing group appointed delegates to the proposed National Convention in New York City to be held later in the month. The National Society was organized April 30th, 1889. Those descendents of our brave ancestors, whose vision and courage gave us our great nation, formed a fraternal, patriotic, and civic organization to perpetuate the basic principles of freedom to honor our founding fathers. The name adopted by the organization was the Sons of the American Revolution. The South Carolina Society began granting charters to chapters in 1923. Currently nineteen chapters promote the American spirit through fraternal meetings, commemorative observances of events and battles, educational materials, projects, lectures, tours and publications. South Carolina is rich in historical events of the American Revolution. From the mountains to the coast, South Carolina experienced the most battles and skirmishes of the war. The seventeen chapters of our society sponsor annual anniversary ceremonies of many of the battles and events.

Relics of the Revolution may be found throughout the state in some federal and state parks, museums, and libraries. Markers are found in our countryside reminding us of the sacrifice of our ancestors. The Society seeks to mark graves of our Revolutionary ancestors. Since the organization of the South Carolina Society, over 3,000 have filled the membership ranks. The present membership is about 700.

The South Carolina Society of the American Revolution joins in effort with the Daughters of the American Revolution, the Children of the American Revolution, and all patriotic and historical groups in keeping alive the ideals of our ancestors who gave us our United States of America.

Member since June 24, 1960